descript develops software that solves routine tasks and helps people to focus on the important things of their job. So far, we have developed such software in individual projects, but now we want to concentrate on the product business.
We are looking for support
We develop web-based applications that simplify tedious management processes. But a simple solution does not only consists of an intelligent backend, but also need a sleek and appealing user interface.
And this is where you come in: help us to bring concepts and designs to life in in the frontend. We want to extend our team and are looking for a frontend developer, who either can work remotely or at our office in Dresden.
About the job
This role is about translating design concepts and requirements into clickable user interfaces. At that you will try to implement the UI designs as precise as possible, but you also have the freedom to make decisions in favor of the user interaction. Your range of work stretches from a simple website to sophisticated management software to PWA's.
The job is for someone, who likes to implement appealing user interfaces. Someone, who values the quality of user interaction. Someone, who knows their way around Bootstrap, SASS and JavaScript.
Until now we have worked with the Django web-framework and its template engine. The templates are based on HTML but could also contain logical elements. Your tasks will be the development of such templates for the different views and their styling. This will be mostly done with Bootstrap's provided components. But it could also happen that you have to write your own CSS rules.
We´ve been working with Vue.js for a short time. Therefore, it could happen that you have to work with such frameworks as well. But you can also suggest other frameworks you would like to work with.
Here is a list of activities that you will do regularly:
Implement HTML templates in Django based on an Adobe XD spec
Concept a frontend structure of websites we create with the django CMS
Update the used frontend libraries in our projects
Implement app prototypes based on Vue.js
Edit content with the django CMS
Overwrite SASS variables in our Bootstrap based stylesheets
Check templates for accessibility
Optimize templates based on the Core Web Vitals
We expect you to report your progress regularly with all insights and impediments you encountered.
Sometimes you will work in small development teams, sometimes you get your own project. Sometimes the project consists of frontend and backend developers. But you can always count on the help of the team to discuss ideas and implementation.
In summary, you will help us to implement good designs. You will help us to bring joy to the users of our software. We don't expect that you can do each listed activity from day one. During your time with descript we will continuously improve and enhance your skills. We are there to support you, to cheer for you and to get things under way together.
About you
You have an eye for details. You are organized. You have delight in develop meaningful applications. You are experienced. You already did some of the tasks. You like to do these things every day and develop successful software with us.
It is important that you know the tools and helpers for your daily work. You know the Bootstrap components and can use them appropriately. You must implement specified designs. You know the processes of software development and know how to work with Git and Co.
You will work in teams of different size and shapes and will report to your project manager. But you should be able to organize yourself in the project. You will need to arrange your time and tasks on your own. We will give you time to learn how to work with us. We also hope to learn some things from you.
We value people who can take a stand yet commit even when they disagree. We will often subject ideas to rigorous debate, so you'll need to stand up for what you believe, but we remember that we're here for the same purpose: to do good work together.
We are looking for someone who does not think that more hours mean better output. We are not impressed by overtime but by creativity and efficiency.
Our benefits
Based on your experience you will get a salary at usual market terms.
Our additional benefits shall improve your time with us. You can arrange your time on your own, you just need to be present at the important meetings. This could be at the office in the city centre of Dresden or virtual from any other place.
We offer you pecuniary advantages like a warm meal or your membership at the gym. Anyway, you will find a fridge full of cold drinks. To get to the office we pay for your tram tickets or you get company bike. To respect your circumstances and provide you family-friendly opportunities are part of our Team DNA.
This is how you can apply
We strongly encourage candidates of all different backgrounds and identities to apply. Each new person is an opportunity to bring a new perspective into our team and we are eager to further diversify our company. We are committed to building an inclusive, supportive place for you to do the best work of your career.
If you think that the job suits you well, tell us about yourself in your application. Try to include following aspects:
Tell us more about software projects you have worked on so far
Is there any open-source project you have worked on? It does not need to be a Django project
Tell us a bit about your role in the last team you worked with
Even you will mostly do programming during your job your communication skills are important. Please take your time to articulate your thoughts. But length is not equivalent with good content so try to express yourself in 500 words or less. Also state your expected salary, your earliest start date and your prefered place of work.
Send your application at karriere@descript.de. Afterwards we will meet you for an interview to discuss your experiences and expectations. After this you will be invited for a trial work to get to know our working culture and prove yourself with a real task.
We are looking forward to your application.
In a nutshell
Job title: Senior Frontend developer (m/f/d)
To be staffed: immediately
Type: Permanent full-time of part-time job
Working hours: 30 to 40 hours per week
Location: Dresden oder remote (Office attendance* at least 2 days any 14 days)
Application documents: Cover letter, CV & work-related examples
* not mandatory under pandemic conditions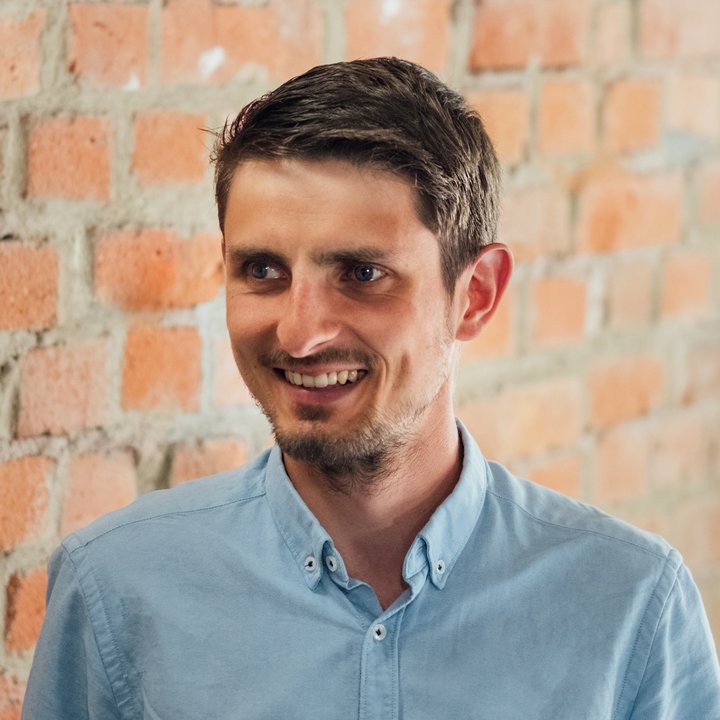 You want work with us?
Use our application form to send your documents directly to Tom, managing partner and creative head at descript.
Apply now